Articles
Premium Version Only (since v0.11.3)
[anwpfl-missing-players competition_id="" season_id="" club_id="" sections="" season_grouped="1" all_players="0" finished_only="1"]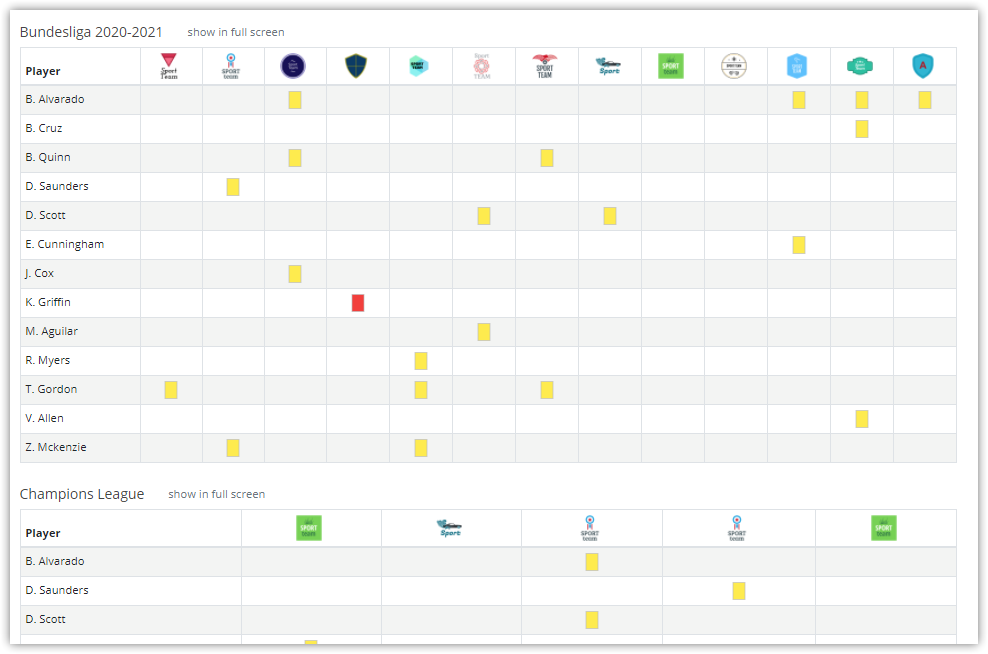 Shortcode Attributes
competition_id – (required when Season ID not set)
club_id – (required)

sections – cards/missed/ or empty for all. Missed data is from Match block - Missing Players


Since v0.11.12
Now you can set Season ID instead of Competition ID. It will allow to use this shortcode in "Layout Builder :: Club" template.
season_id – (required when Competition ID not set)
season_grouped – put all season games into one table (1) or create separate tables for every season competition (0). Default - 1
all_players - show all played players (1) or only with cards, missing status (0). Default - 0
finished_only - show only finished games (1) or all games (0). Default - 1
Code to use in "Club >> Layout Builder"
Put the code below into Global Shortcode block.
[anwpfl-missing-players club_id="%club_id%" competition_id="" season_id="%season_id%" season_grouped="0" all_players="0" finished_only="1" sections=""]

Season ID and Season Grouped = 1